Treat yourself to a spa-like experience at home with the purifying and hydrating power of FresnMud face mask. Deeply clarify and purify your pores while instantly hydrating and rejuvenating your skin to reveal a new radiance. FreshMud with activated charcoal, CoQ10 and French lavender essential oil & coconut oil offers a relaxing and beautifying mask at home.
Why FreshMud?
Key Benefits*
Activated charcoal binds to and helps pull dirt and other particles out of your pores helping your skin look smoother and more radiant
Coconut oil is a natural moisturizer and antibacterial without the harshness of other antibacterial ingredients
CoQ10 and organic rosehip seed offer a truly anti-aging skincare experience
Ingredients derived from 100% natural sources with specific benefits
Kaolin Clay
Being the mildest of all clays, kaolin clay is suitable for sensitive skin types. It soothes skin that is easily irritated, as well as skin prone to breakouts, rashes and redness. The exfoliating nature of kaolin clay helps remove dead cells and flaky skin, keeping skin looking smooth and soft. It has a detoxifying effect, sucking out impurities such as grime, dirt, pollution and germs from the pores.
Activated Charcoal
Activated charcoal binds to and helps pull dirt and other particles out of your pores, helping your skin look smoother and more radiant.
Coconut Oil (Cocos nucifera)*
It is packed with rich fatty acids, vitamins, and antioxidants to help fight damage-causing free radicals. Also, coconut oil molecules are small in size, which helps with absorption for even more conditioning and moisturizing benefits.
Lavender Oil
It is used on the skin and hair for its relaxing, antiseptic and soothing qualities. It is also antibacterial and deodorizing. It works well on all skin types and is effective in treating oily skin as well as acne, dermatitis, eczema and psoriasis. Lavender is credited with being anti-inflammatory, antiseptic, antibacterial, soothing, healing, toning and stimulating.
Organic Sunflower Oil
Sunflower oil is compressed from sunflower seeds. Sunflower oil is rich in vitamin E, which acts as an antioxidant in the body, and is specifically related to improving skin health and regenerating cells. This means that your skin is better protected against damage from the sun, as well as the natural degradation of age that occurs when free radicals are present in the body.
Chamomile Flower Extract
Dried chamomile flowers have numerous, widespread health implications thanks to their high level of disease-fighting antioxidants like terpenoids and flavonoids. Chamomile is used as an anti-inflammatory and for some skin disorders. It is known to support, soothe, calm and nourish skin.
Rice Extract*
It is a skin-conditioning agent, and can help reduce inflammation and itching. It is also an excellent source of Vitamin E, which helps to protect dry, scaling and chapping of skin.
Marigold Flower Extract (Calendula officinalis)*
This flower's extract has been shown to reduce itchiness, redness, sensitivity, dryness and swelling. It's been found that calendula has the ability to promote the growth of healthy new tissue, boost collagen production, which firms and strengthens skin, hydrate dry skin, and speed up the process of skin repair.
Aloe Vera Leaf Juice (Aloe barbadensis)*
It is used in traditional medicine as a skin treatment for its moisturizing emollient effect. Aloe vera can help close pores and it is recommended for skin tightening, skin brightening, acne and dry skin. It is said to increase collagen production and thus improve the texture of your skin.
Pomegranate Fruit Extract*
Pomegranate has been used for thousands of years to treat a wide variety of diseases, and is found in Greek, Hebrew, Buddhist, Islamic, and Christian writings. Pomegranate contains a variety of components that might have antioxidant and anti-inflammatory effects. Pomegranate is considered to be a superfood for its antioxidant activity. It contains ellagitannins, gallotannins, ellagic acid, flavonoids such as anthocyanin and epicatechin, and phenolic acid.
Rosemary Leaf Extract
The nutrients of rosemary can help protect skin cells from damage often caused by the sun and free radicals. Since rosemary has natural antiseptic properties, it is a superior disinfectant for our skin and hair. In fact, this essential oil is known to promote a healthy, moisturized scalp and reverse premature graying.
Apple Fruit Extract (Pyrus malus)
Apples are well-known for their health benefits. Flavonoids in the apple may play an important role in preventing many kinds of cancer, and may also reduce the risk of heart disease and stroke.
Horsetail Leaf Extract
Horsetail is an astringent herb and skin-conditioning agent.
Olive Leaf Extract
Olive oil is rich in vitamins A and E, and as an antioxidant it helps prevent damage to skin cells. Olive oil contains linoleic acid, a fatty acid that helps it moisturize by penetrating deeply into your skin, without clogging pores. This makes it a great hydrator for all types of skin, even sensitive and combination skin that may be prone to clogged pores. Olive leaves contain several beneficial flavonoids, including quercetin, rutin, and kaempferol. Olive oil is a wonderful oil cleanser for the skin. It also helps decrease acne by killing off acne-causing bacteria.
Rooibos Leaf Extract
Because of its high flavonoid content, rooibos is a powerful anti-aging ingredient for skin care formulas. Since much of skin aging is caused by environmental stressors, rooibos' abilities help to protect skin and maintain a more youthful look. Rooibos is also known to be helpful for sensitive skin. Rooibos is a source of vitamin D and zinc, and has been shown to be protective.
White Tea Leaf Extract
The active compounds in white tea extract are capable of strengthening the skin's immune system by preventing damage due to oxidation stress. White tea extract may also be able to delay the aging process through its high antioxidant concentration and ability to protect the skin from oxidation.
Green Tea Leaf Extract (Camellia sinensis)*
Research has established that topical application of green tea leaves or extracts have many benefits for skin, including anti-aging properties. The polyphenols in green tea possess potent antioxidant and skin-soothing properties, and show significant promise for improving the appearance of sun-damaged skin.
Please click to enlarge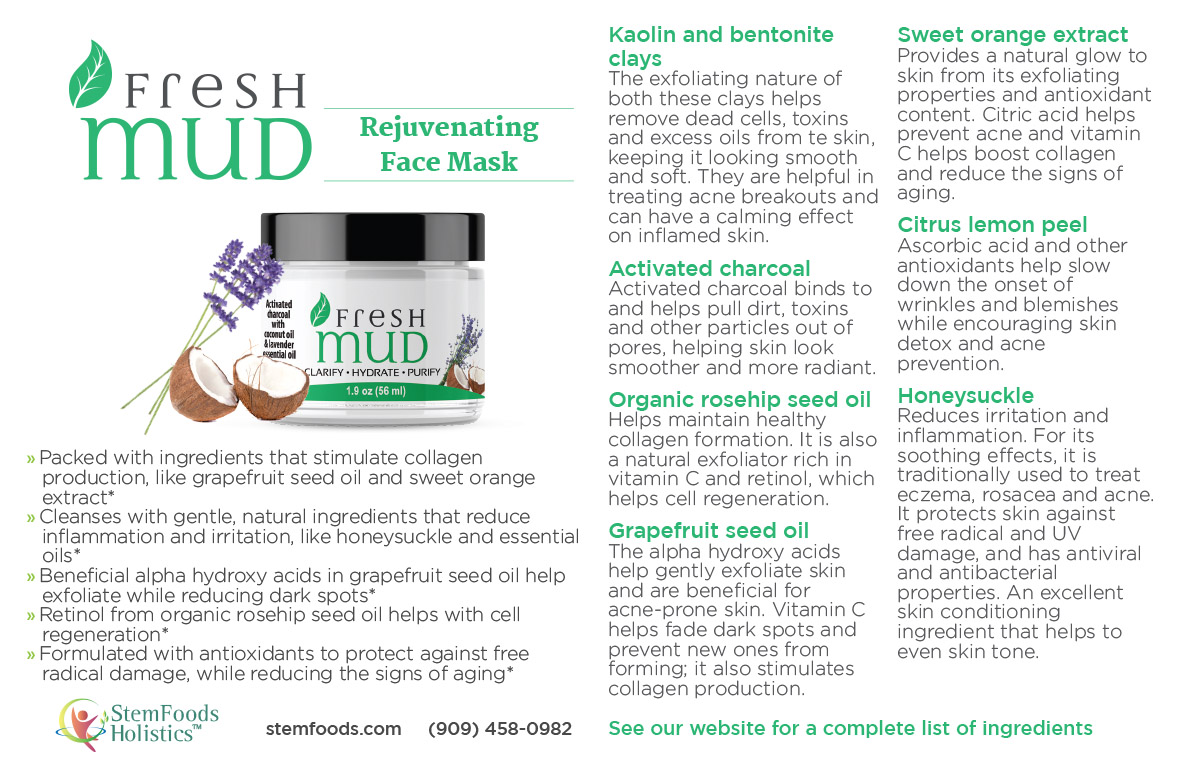 Please click to enlarge