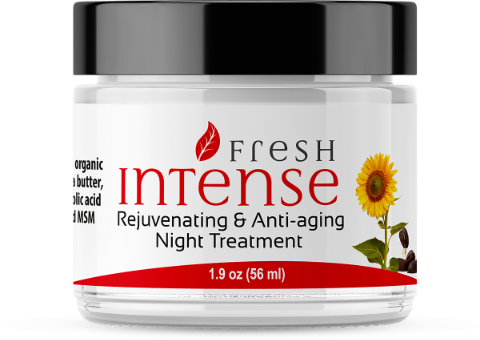 This nectar was formulated to be nothing less than your skin's ticket to radiance. It has a luscious yet light texture that soaks in quick, with a soft, citrus-tinged aroma from its natural ingredients.
Essential actives like pro-vitamin B5 (panthenol), glycolic acid and vitamin C complement the long list of beautiful botanicals (carrot seed, papaya, evening primrose and MSM) and make this product what it is: an effective anti-aging treatment.
While pure plant lipids provide moisture for the skin, glycolic acid makes sure to hold all that water in. Each cell is perfectly plumped and guarded from dehydration for softer skin.
Vitamin C, the super-antioxidant that it is, repairs and prevents against photo damage and premature aging.
Each application is a collagen-producing stimulation that keeps your skin safe from the threat of sagging, fine lines and deep wrinkles.
FreshIntense is a wonderful addition to your natural skincare routine. Scroll down to read about a few of FreshIntense's natural and health-promoting ingredients.
FreshIntense?
Helps stimulate collagen production
Effectively penetrates skin for deep hydration
Helps stimulate keratin production
Contains botanicals that combat acne
Fights off free radical damage, minimizing signs of aging
Locks in moisture for softer, more elastic skin
Naturally regulates skin's oil production
Powerful antioxidants help repair skin
Helps even out skin tone, minimizing blemishes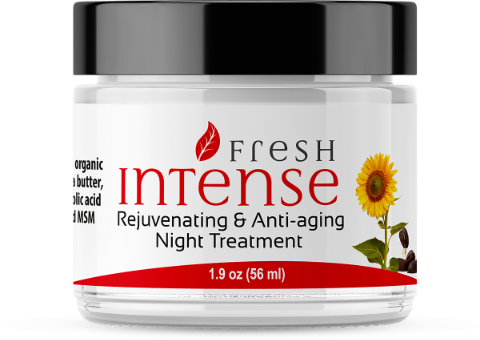 Ingredients derived from natural sources with specific benefits to help rejuvenate your skin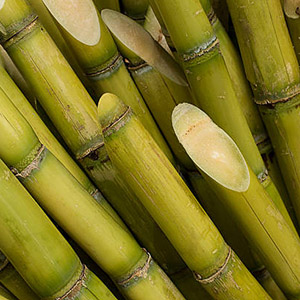 Glycolic acid
Glycolic acid is the most popular alpha-hydroxy acid (AHA) used in skin care. It comes from sugar cane, and is the smallest AHA, so it is the most effective at getting into the skin. Glycolic acid is a fantastic anti-aging agent that helps reveal younger-looking skin by naturally exfoliating dead skin cells while softening rough skin. Glycolic acid's skin-renewing properties include the stimulation of collagen, which gives skin firmness and elasticity, as well as the boosting of hydration levels.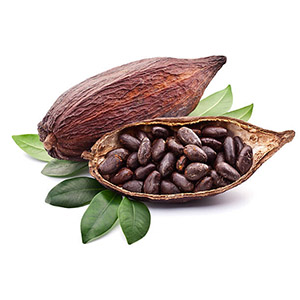 Organic theobroma cocoa butter
Cocoa butter comes from the cacao bean and it is a powerful moisturizer, full of antioxidants and fatty acids. Antioxidants help fight off free radical damage such as dark patches, blotches or other signs of aging. Cocoa butter improves blood flow in the skin and protects against UV ray damage due to its phytochemical compounds. Cocoa butter hydrates the skin deeply and contains skin nutrients such as oleic, palmitic and stearic acids.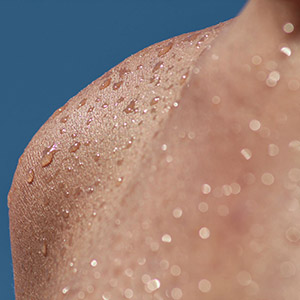 Panthenol (Provitamin B5)
Panthenol (also known as vitamin B5) is a humectant, emollient, and moisturizer. As an emollient, panthenol helps to seal cracks in the skin. Panthenol draws moisture from the atmosphere and readily binds to water molecules. This promotes skin hydration and makes skin better equipped to retain moisture levels. Panthenol improves hydration, reduces itching and inflammation of the skin, and accelerates epidermal wounds' rate of healing.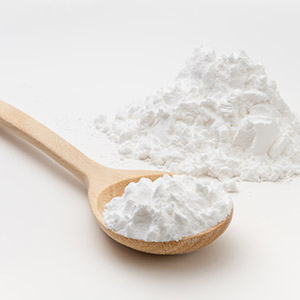 MSM (Dimethyl Sulfone)
MSM (Dimethyl Sulfone) is a molecule that helps skin absorb other nutrients. MSM contributes to the production of elastin, collagen and keratin. It also reduces inflammation.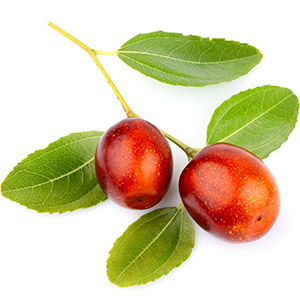 Organic jojoba oil
Jojoba oil is the liquid produced in the seed of the Simmondsia chinensis (jojoba) plant. Jojoba oil contains natural forms of vitamin E, which is an antioxidant. For this reason, jojoba oil can help skin fight oxidative stress from the environment, and it can help slow down signs of aging. It helps balance oil production on the skin, while at the same time it helps relieve dryness, flaking and itching of skin. Jojoba oil has been shown to help treat acne by minimizing clogging of pores.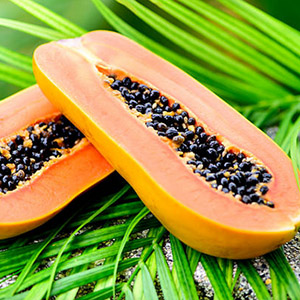 Papaya Seed Oil
Papaya contains an enzyme called papain, which promotes healing of the skin and secretion of collagen, helping reduce signs of aging, such as the appearance of fine lines and wrinkles. Papain helps rejuvenate skin by sloughing off dead skin cells, breaking down dead skin cells and clearing up the skin's pores. Papaya seed oil can help in the relief of irritated skin conditions such as eczema or psoriasis. Papaya seed oil's high vitamin C content also contributes to the fight against blotches, dark spots, acne, large pores, wrinkles and other skin blemishes. Another antioxidant found in papaya is carotene. The high antioxidant content in papaya seed oil helps fight free radicals that cause skin aging. Papaya oil also reduces inflammation, blemishes and scarring due its vitamins A, C, and E content.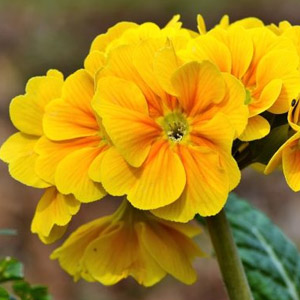 Organic Evening Primrose
Evening primrose is a small, yellow-flowered plant that blooms in the evening and is native to North America. Evening primrose oil contains large amounts of linolenic acid. Linolenic acid is known to be a skin-conditioning agent and skin-restorative ingredient. Linolenic acid has significant antioxidant and anti-inflammatory properties, and has been shown to stimulate skin cells which produce keratin and help create a skin barrier. Evening Primrose oil soothes and moisturizes the skin while enhancing elasticity. Furthermore, it promotes a healthy, clear, rejuvenated complexion with enhanced radiance and addresses roughness, wrinkles, redness, dryness, and irritation.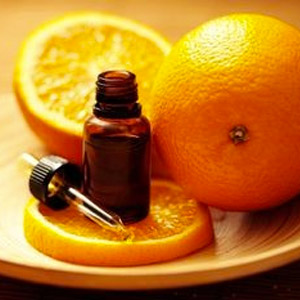 Vitamin C
Vitamin C is one of the most widely-researched ingredients in skincare. Its benefits are vast and powerful. Some of those benefits include the ability to even out skin tone, diminishing the appearance of fine lines and wrinkles. As an antioxidant, vitamin C can protect skin from environmental stressors, such as free radical damage. Vitamin C is widely used because it is safe for most skin types and it has a hydrating effect. Vitamin C is also known for it ability to boost collagen production and to accelerate cell turnover, meaning, damaged cells are replaced with healthy new ones. Collagen provides skin with firmness and elasticity.
FreshIntense
Glycolic acid, Organic theobroma cocoa butter, Panthenol (Provitamin B5), MSM (Dimethyl Sulfone), Organic jojoba oil, Papaya Seed Oil, Organic Evening Primrose, Vitamin C.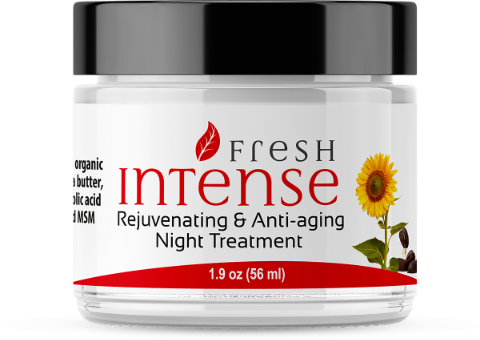 Apply generously to face, neck or any area in need of hydration each night and wake up with pampered and more hydrated skin.